An adult hentai game with animations in which you solve a puzzle to progress to the next adult scene. There is some Japanese text and voice during the opening and between each of the puzzles. The puzzle involves you rotating around blocks until enough of the same color are touching then those blocked disappear and the ones above fall down. The censors in the animation are completely white and the puzzles are placed over it so you play the puzzle inside the adult animation. If you get your score to 100% you progress to the next adult animation if you fail you get the cum shot scene and the game ends, you can press spacebar to add more blocks quickly. There is a mode in the main menu to replay the cg and animations but they still have the annoying white censors, challenge mode lets you play the game on it's own.
Download 84MB
Megaupload
Screenshots (29 Images)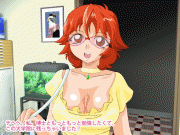 Alternative Names: プルピューDynamite!